Visitas de estudiantes de secundaria al Observatorio del Roque de Los Muchachos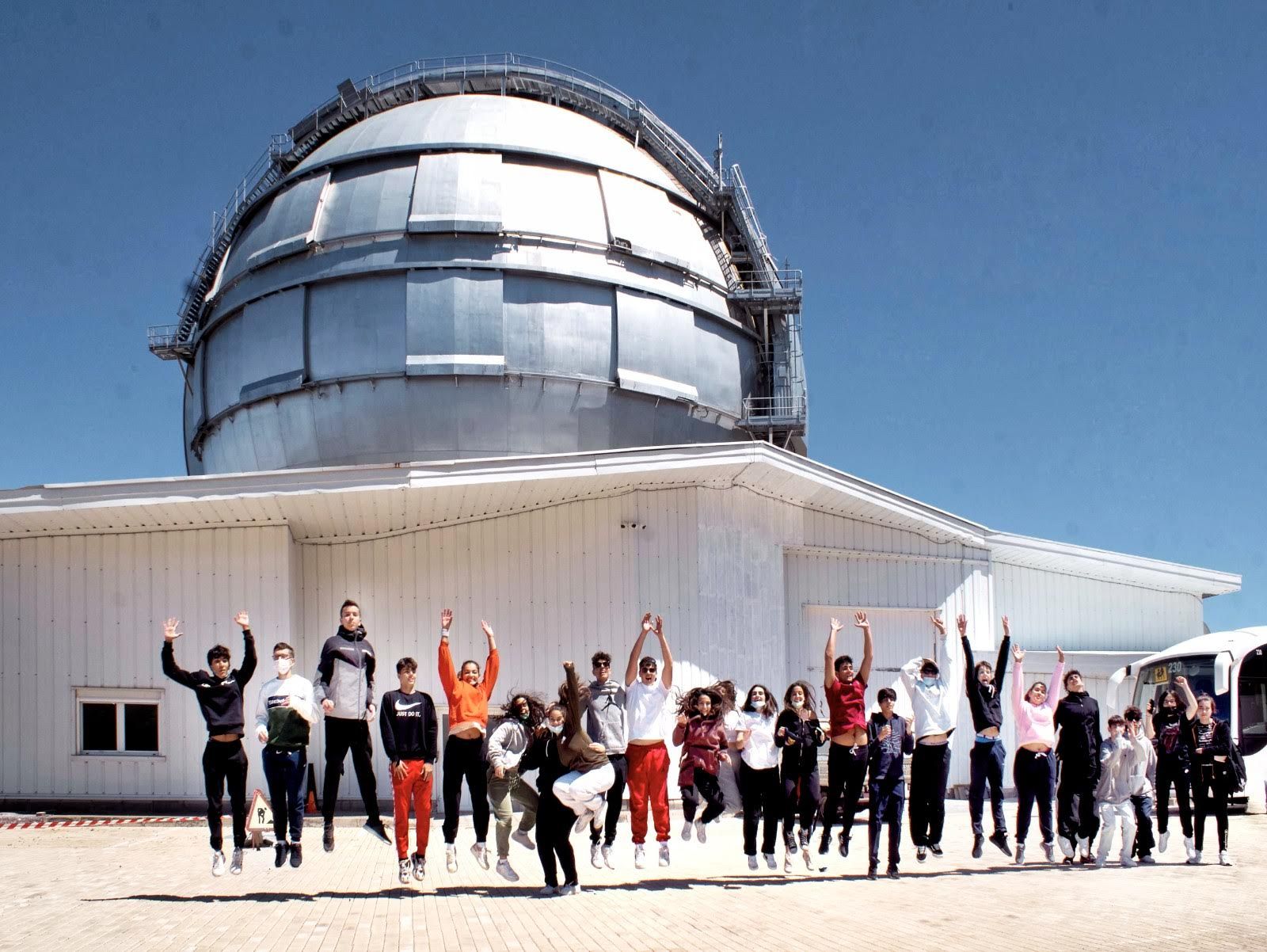 El alumnado de 4º de la ESO del Colegio Santo Domingo de Guzmán de Santa Cruz de La Palma, conocido por La Palmita, ha vuelto al Observatorio del Roque de Los Muchachos (ORM) en la actual etapa de normalización de la pandemia para visitar el Centro de Visitantes y el Gran Telescopio Canarias (GTC). "Dos astrofísicos del GTC y del Instituto de Astrofísica de Canarias (IAC), y el personal del Centro de Visitantes nos atendieron y explicaron qué ciencia se hace en El Roque y la importancia de que el ORM esté La Palma", explica un profesor del centro, quien destaca que "la clásica imagen del salto ante el Gran Telescopio Canarias hacía tres años que no podíamos realizarla por la pandemia".
Este docente expresa su gratitud "a todas las personas e instituciones que hacen posible este programa" y asegura que "volveremos".
Source HERE
---
School visits to the Roque de Los Muchachos Observatory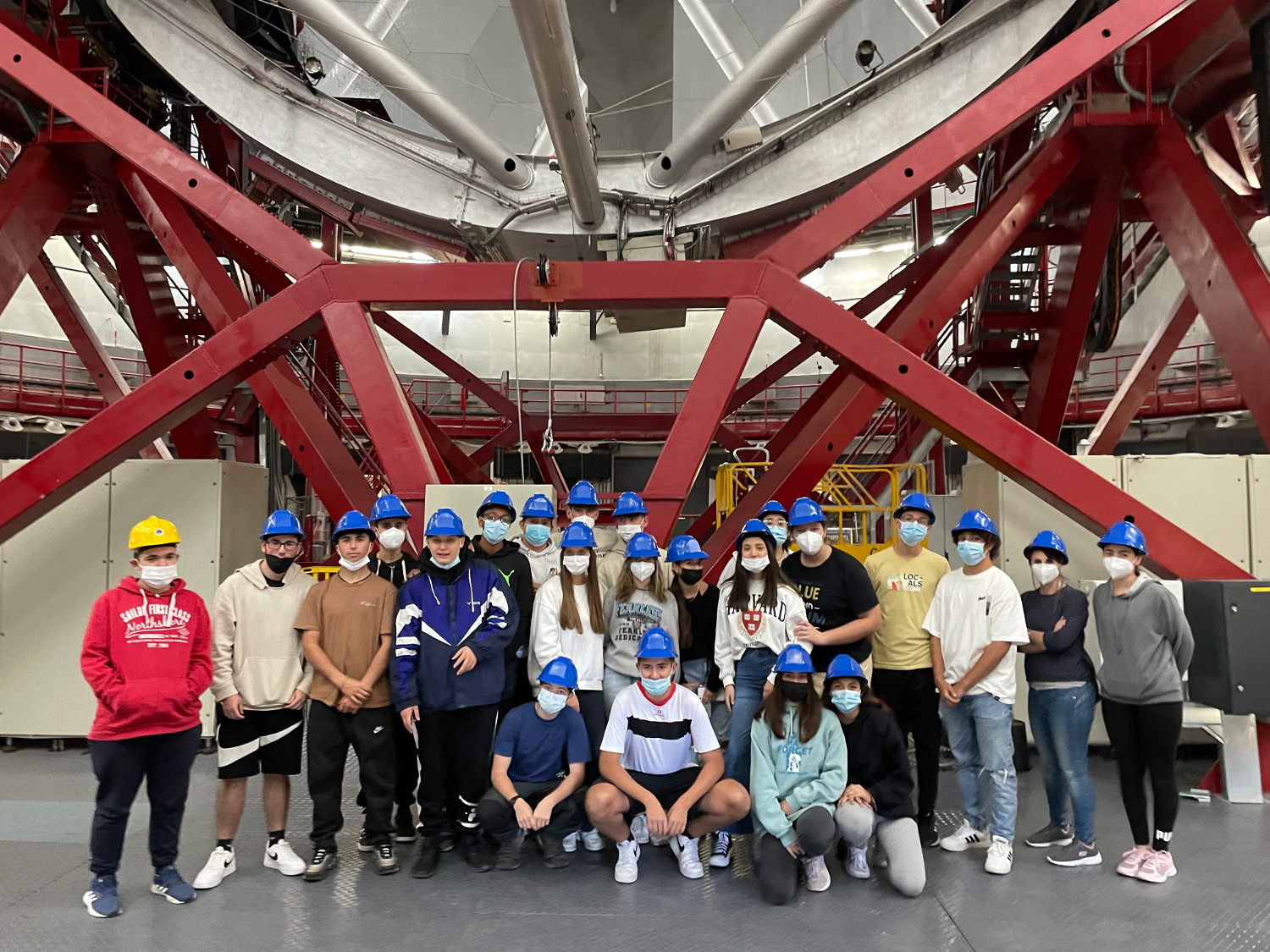 In May 2022, Dr. Jones oversaw visits to the Roque de los Muchachos Obseravtory from more than 100 high school students from La Palma (IES El Paso, IES Villa de Mazo and La Palmita). As part of each visit, the students were given a guided tour of the recently inaugurated visitors centre, featuring interactive modules explaining the importance of the observatory and the pioneering science undertaken there. After which, the students were given the unique opportunity to go inside the Gran Telescopio CANARIAS - the world's largest optical-infrared observatory - learning how the telescope operates and the scientific discoveries it has made.
Visitas de estudiantes de secundaria al Observatorio del Roque de Los Muchachos
En Mayo 2022, Dr. Jones organizó visitas al observatorio de más de 100 estudiantes de 4o de ESO de La Palma (IES El Paso, IES Villa de Mazo y La Palmita). Las visitas empezaban con un tour guiado del recién inaugurado centro de visitantes, incluyendo la oportunidad de interaccionar con los módulos del centro explicando la importancia del observatorio y la ciencia que se hace allí. Después, tuvieron la oportunidad de visitar el Gran Telescopio CANARIAS - el mayor telescopio óptico-infrarrojo del mundo - donde aprendieron sobre las operaciones del telescopio y los descubrimientos que se ha hecho con ello.
---
Astrophysics: a journey through the light
Dr. Jorge Garcia Rojas - talk at a secondary school (I.E.S. San Matías) in Tenerife.
In this talk given to students of 3rd grade of secondary school (14-15 years) and 2nd grade of Baccalaureate (17-18 years) I tried to summarize to students how astrophysics take advantage of the different wavelengths ranges of the electromagnetic spectrum to study the physical properties of celestial objects. I also briefly explained them the importance of technical advances in space telescopes and instrumentation to answer some of the main questions that modern astrophysics has raised in the last years.I also developed with the students a small workshop on how an infrared camera works and the differences between visible and infrared light.
Título: Astrofísica: un viaje a través de la luz
En esta charla impartida a alumnos de 3º de ESO (14-15 años) y 2º de Bachillerato (17-18 años) traté de resumir a los alumnos cómo la astrofísica aprovecha los diferentes rangos de longitudes de onda del espectro electromagnético para estudiar las propiedades físicas de los objetos celestes. También les expliqué brevemente la importancia de los avances técnicos en los telescopios espaciales y la instrumentación para responder a algunas de las principales preguntas que la astrofísica moderna ha planteado en los últimos años. También desarrollé con los alumnos un pequeño taller sobre el funcionamiento de una cámara de infrarrojos y las diferencias entre la luz visible y la infrarroja.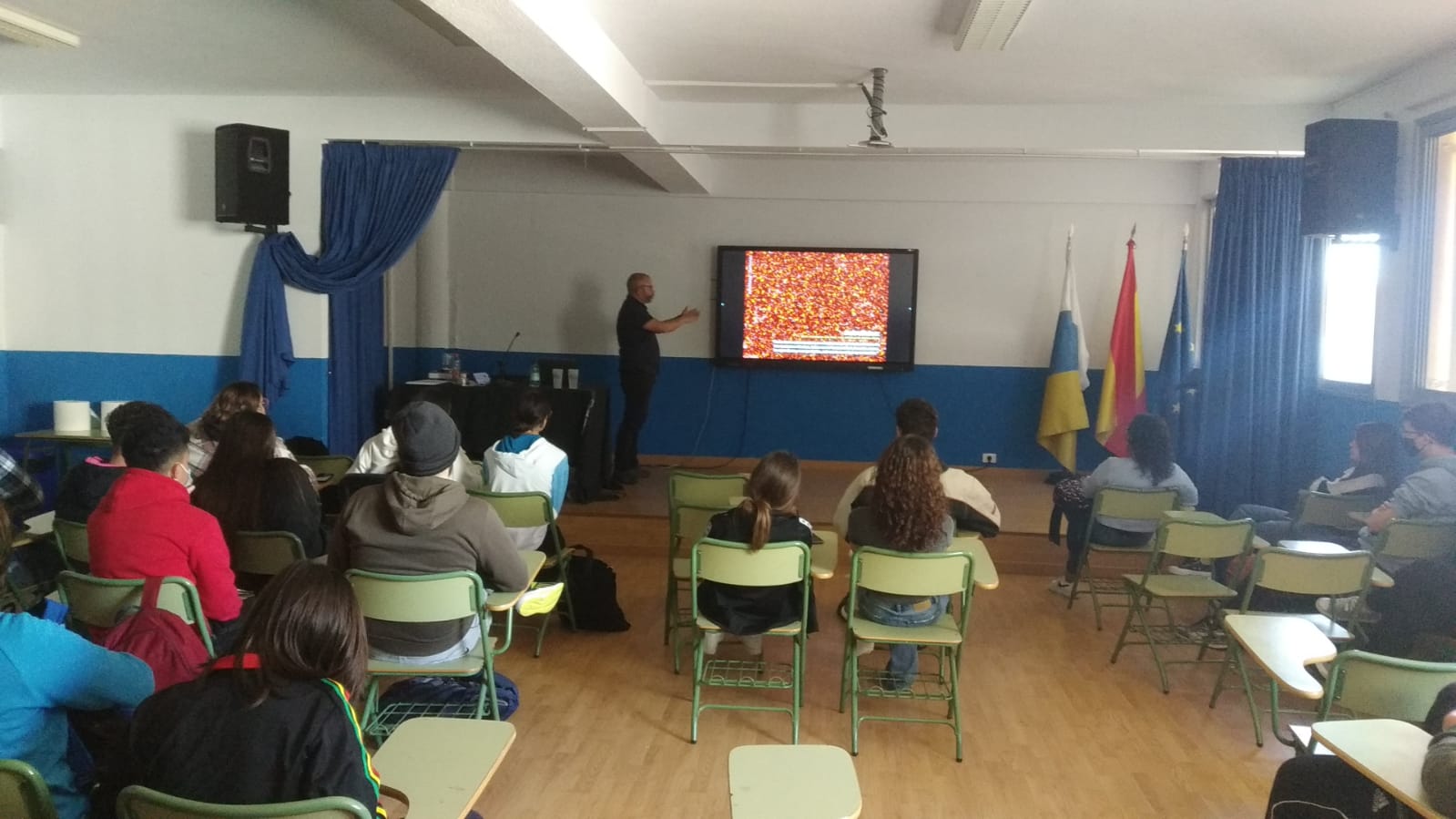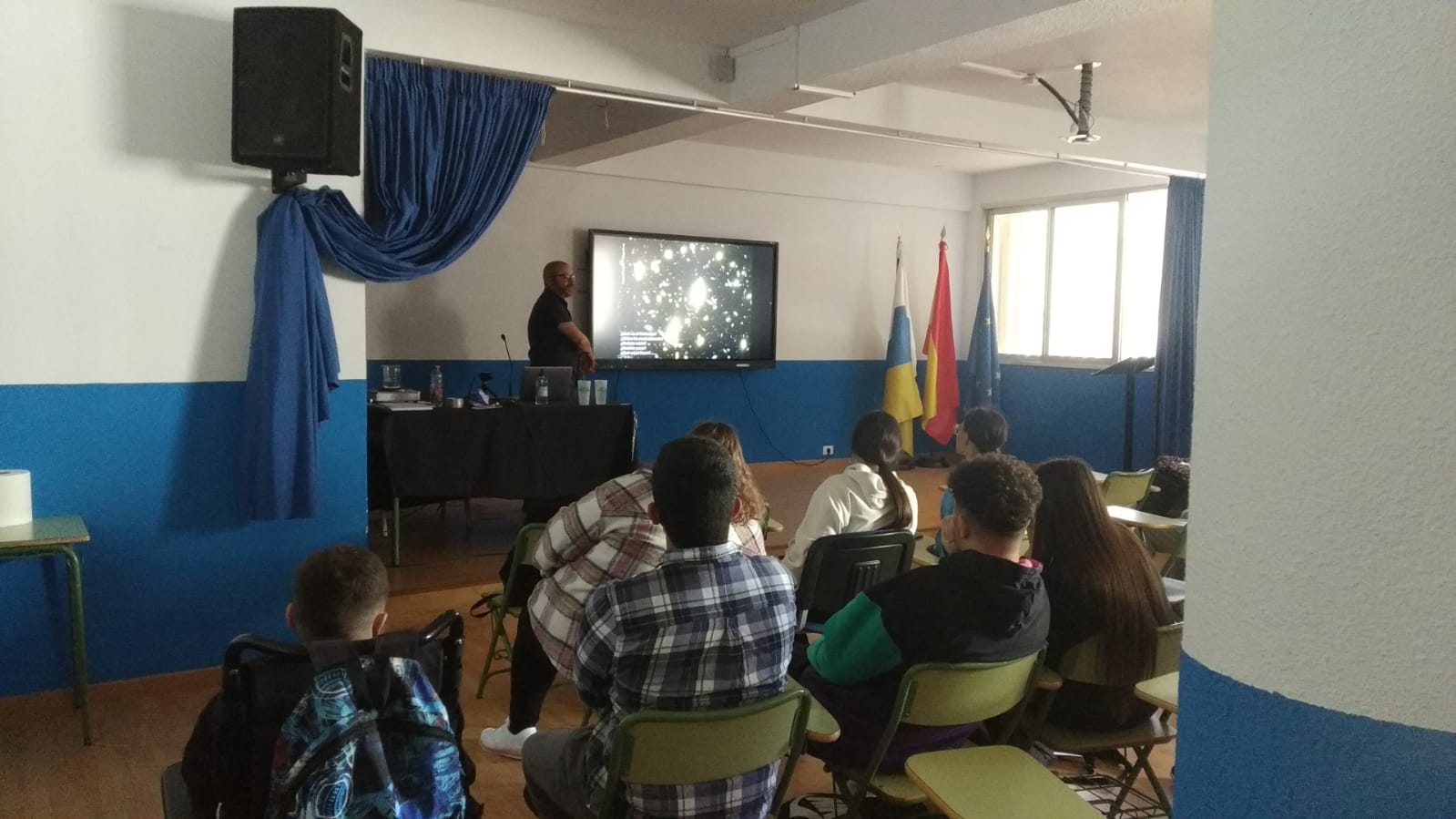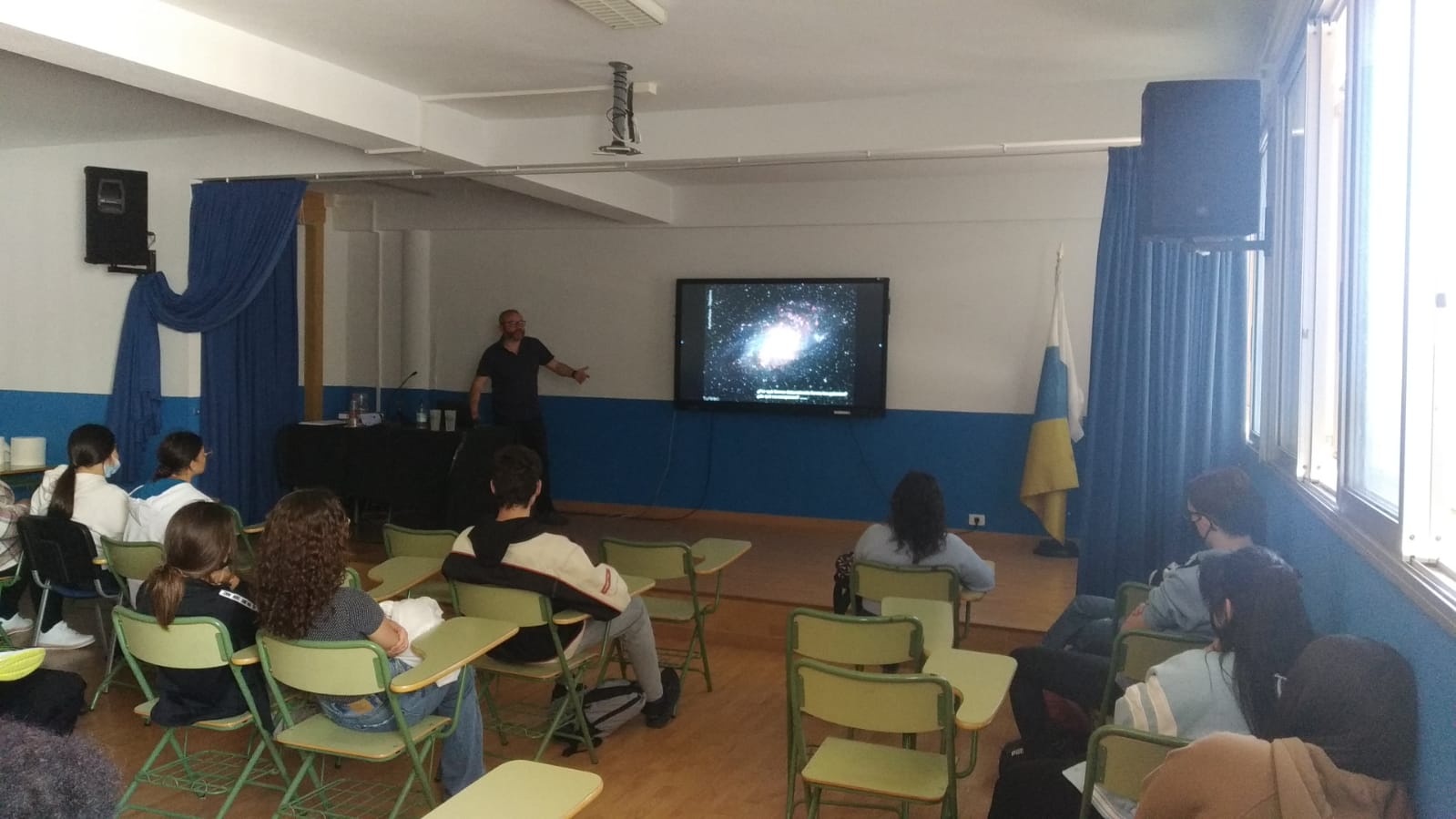 ---
"Astronomical Instrumentation" talk and a small workshop with an infrared camera at the Secondary School "IES Mesa y López" in Las Palmas de Gran Canaria
Dr. Jorge Garcia Rojas - talk at a secondary school (I.E.S. Mesa y López) in Gran Canaria.
Title: Astronomical instrumentation
In this talk given to 16-17 years old students (1º Bachillerato) we made a journey through astronomical instrumentation across the time: from the nude eye to the most modern ground-based and space telescopes. We focused on optical and infrared capabilities like GTC (the largest optical-near IR telescope in the world) and the JWST, trying to give the students a broad view of the advanced instruments and techniques that make these telescopes the most advanced ones to date. I also gave a sketch of some of some future instruments/facilities in which the IAC has an important role, such as the PLATO mission or the HARMONI spectrograph for the E-ELT. As a complementary activity, we carried out a small workshop with an infrared camera where the students were able to see "in-situ" how there are materials that are opaque to visible light and transparent to IR light, and vice versa.
Título: Instrumentación astronómica
En esta charla impartida a alumnos de 16-17 años (1º Bachillerato) hicimos un recorrido por la instrumentación astronómica a lo largo del tiempo: desde el ojo desnudo hasta los más modernos telescopios terrestres y espaciales. Nos centramos en instalaciones ópticas e infrarrojas como el GTC (el mayor telescopio óptico-IR cercano del mundo) y el JWST, tratando de dar a los alumnos una visión amplia de los instrumentos y técnicas avanzadas que hacen de estos telescopios los instrumentos astronómicos más avanzados hasta la fecha. También hice un esbozo de algunos de los futuros instrumentos/instalaciones en los que el IAC tiene un papel importante, como la misión PLATO o el espectrógrafo HARMONI para el E-ELT. Como actividad complementaria, realizamos un pequeño taller con una cámara infraroja en donde los alumnos pudieron comprobar "in-situ" como hay materiales opacos a la luz visible, que son transparentes a la luz IR, y viceversa.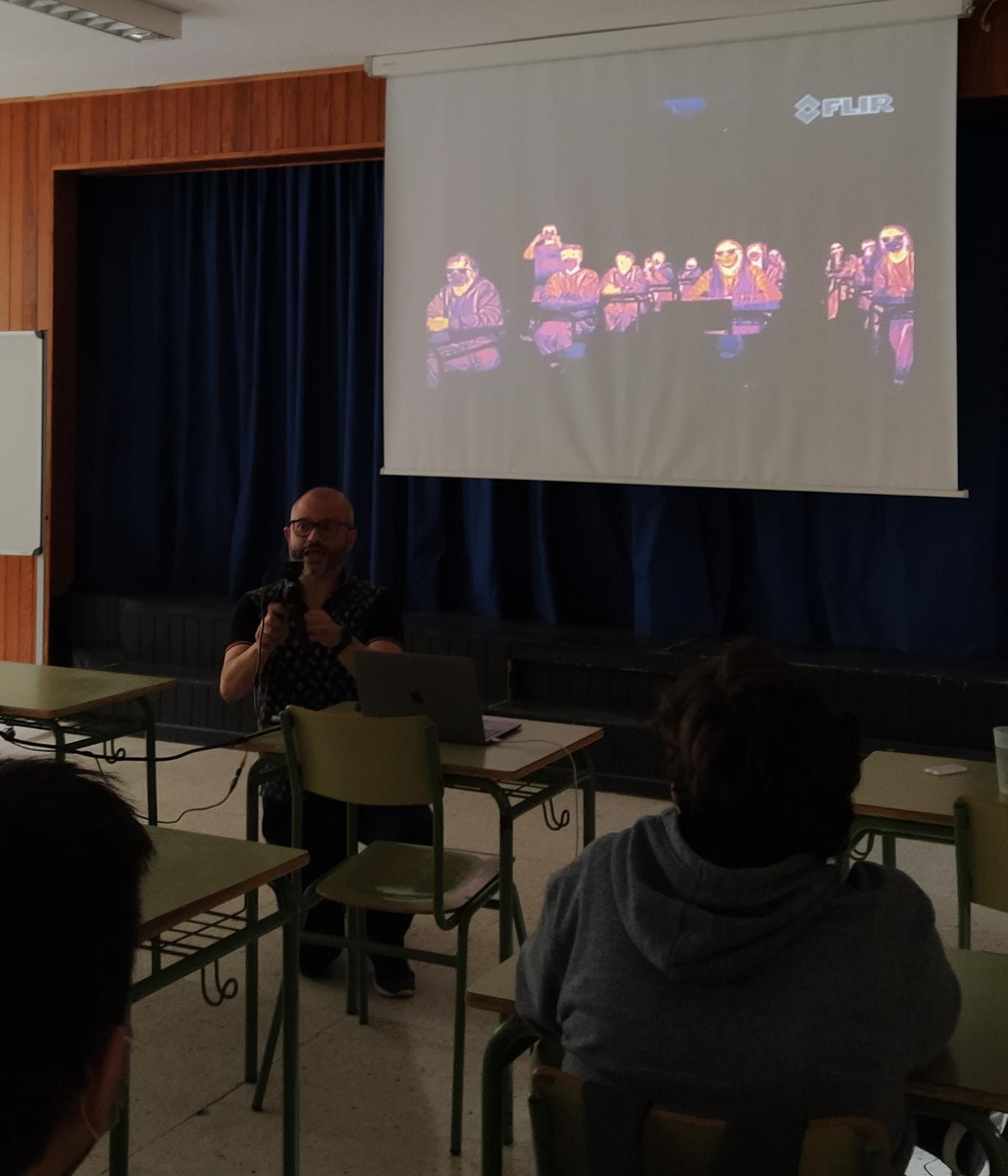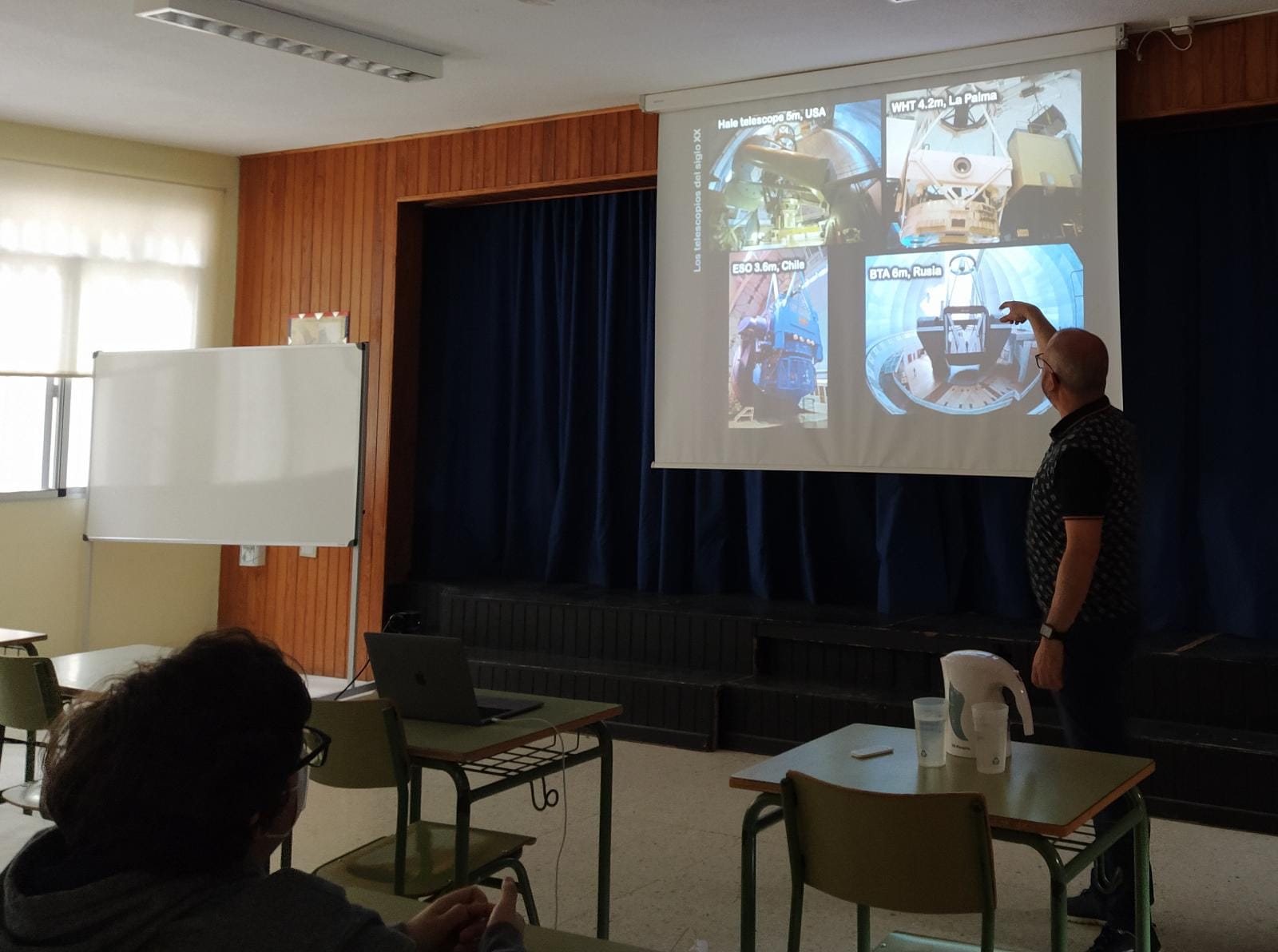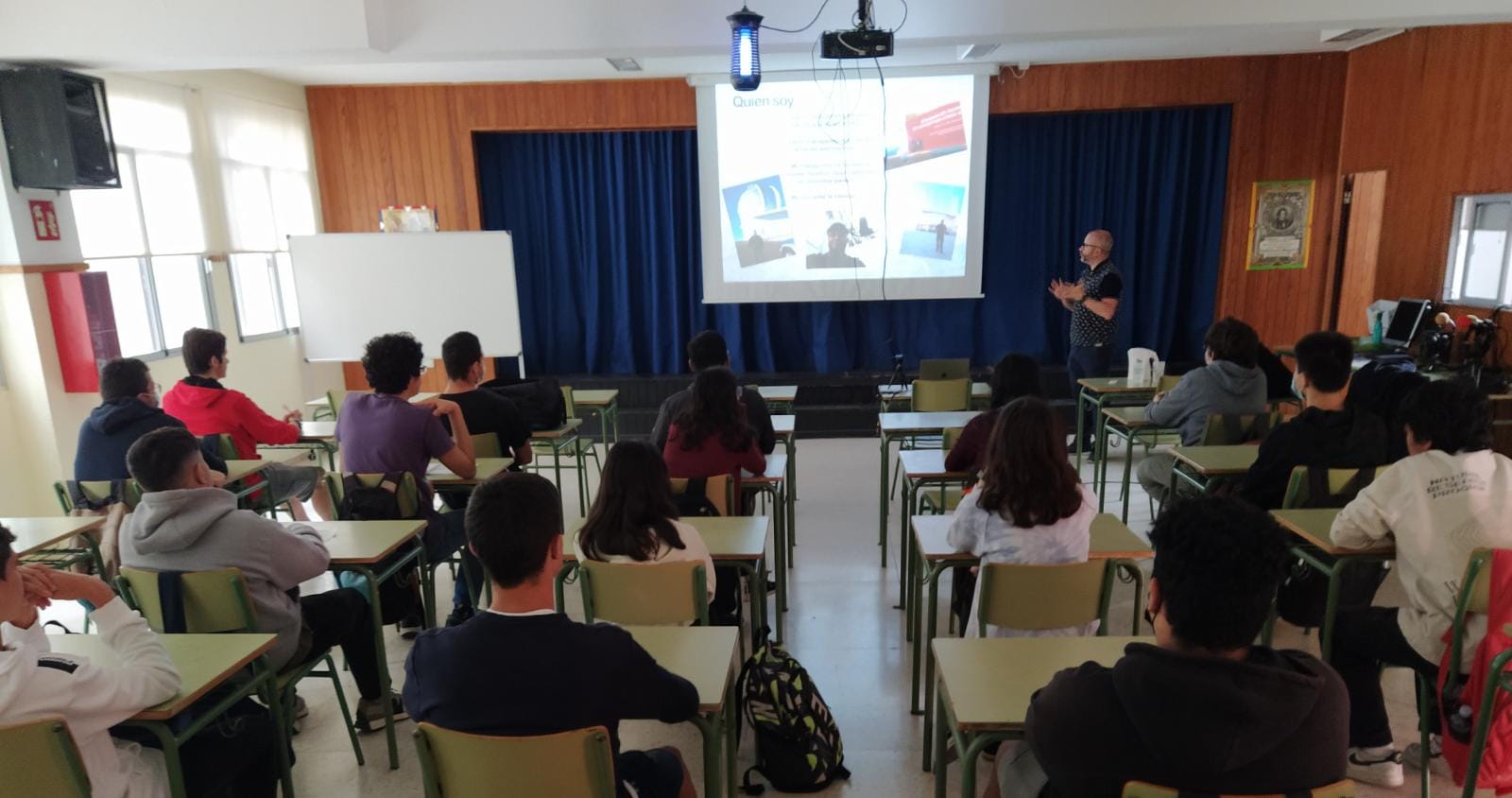 ---
Astrophysics: a journey through the light
workshop for secondary school students (15-17 years) - Las Palmas de Gran Canaria
Speaker: Jorge Garcia Rojas
15.3.2022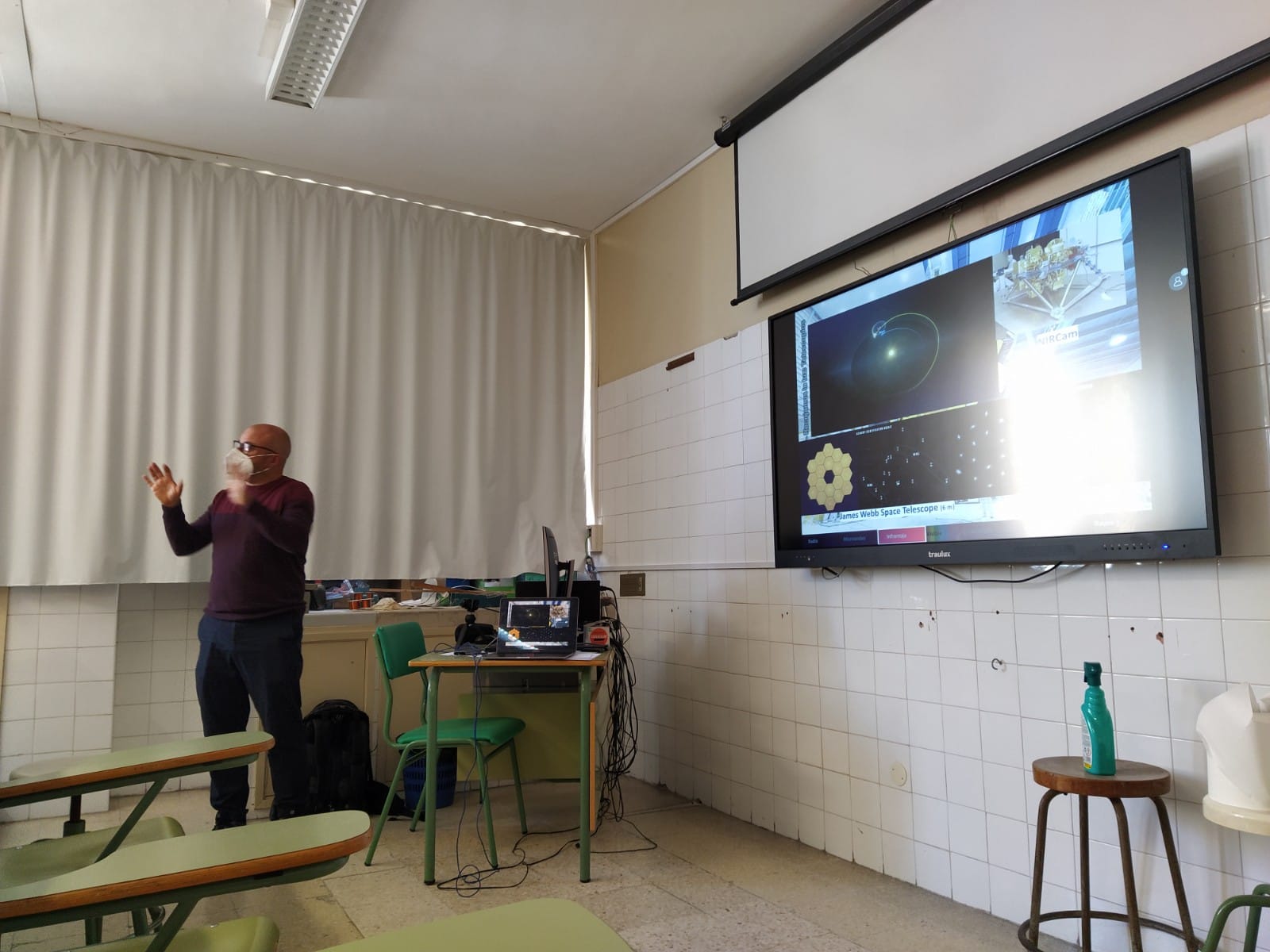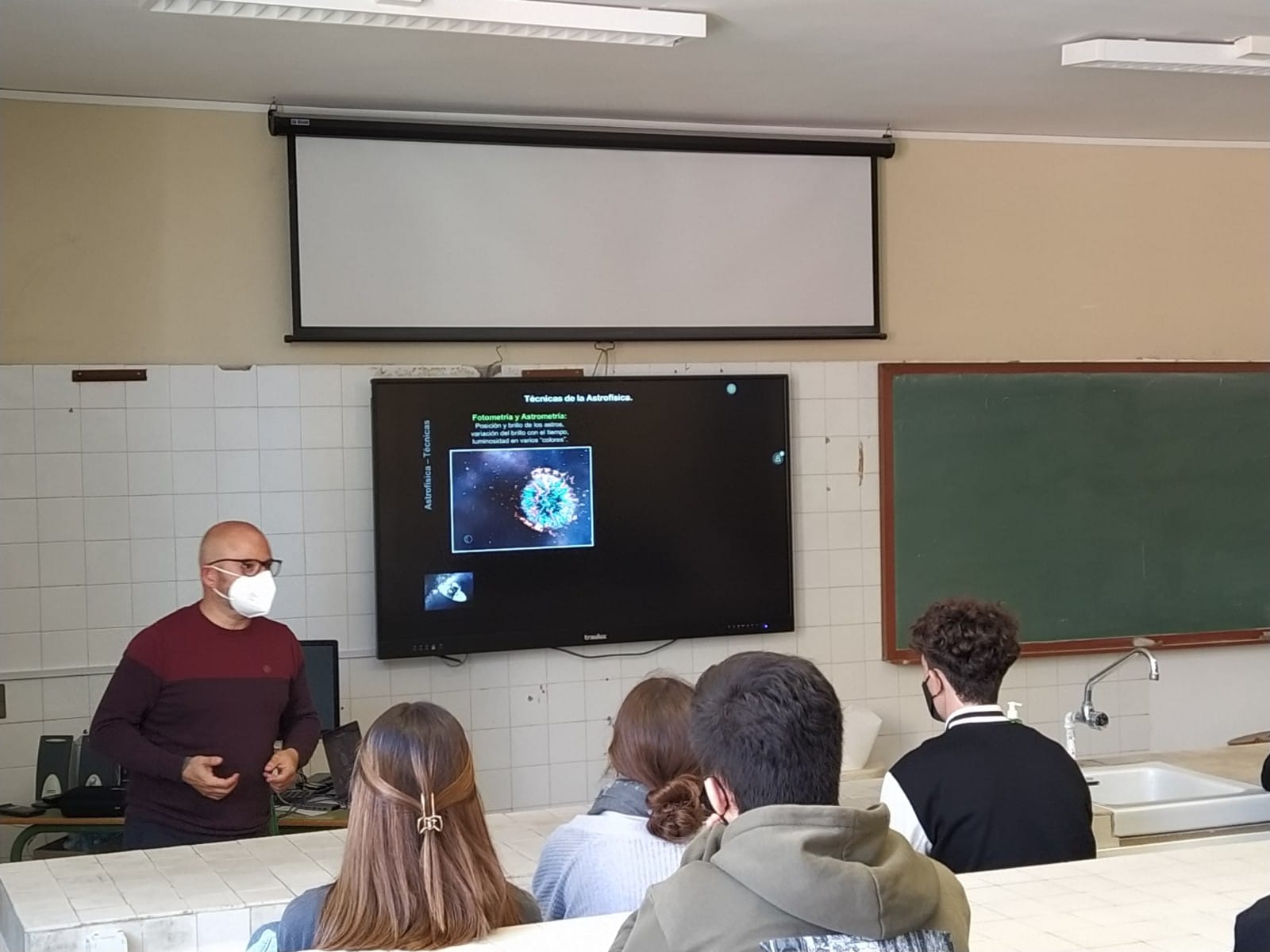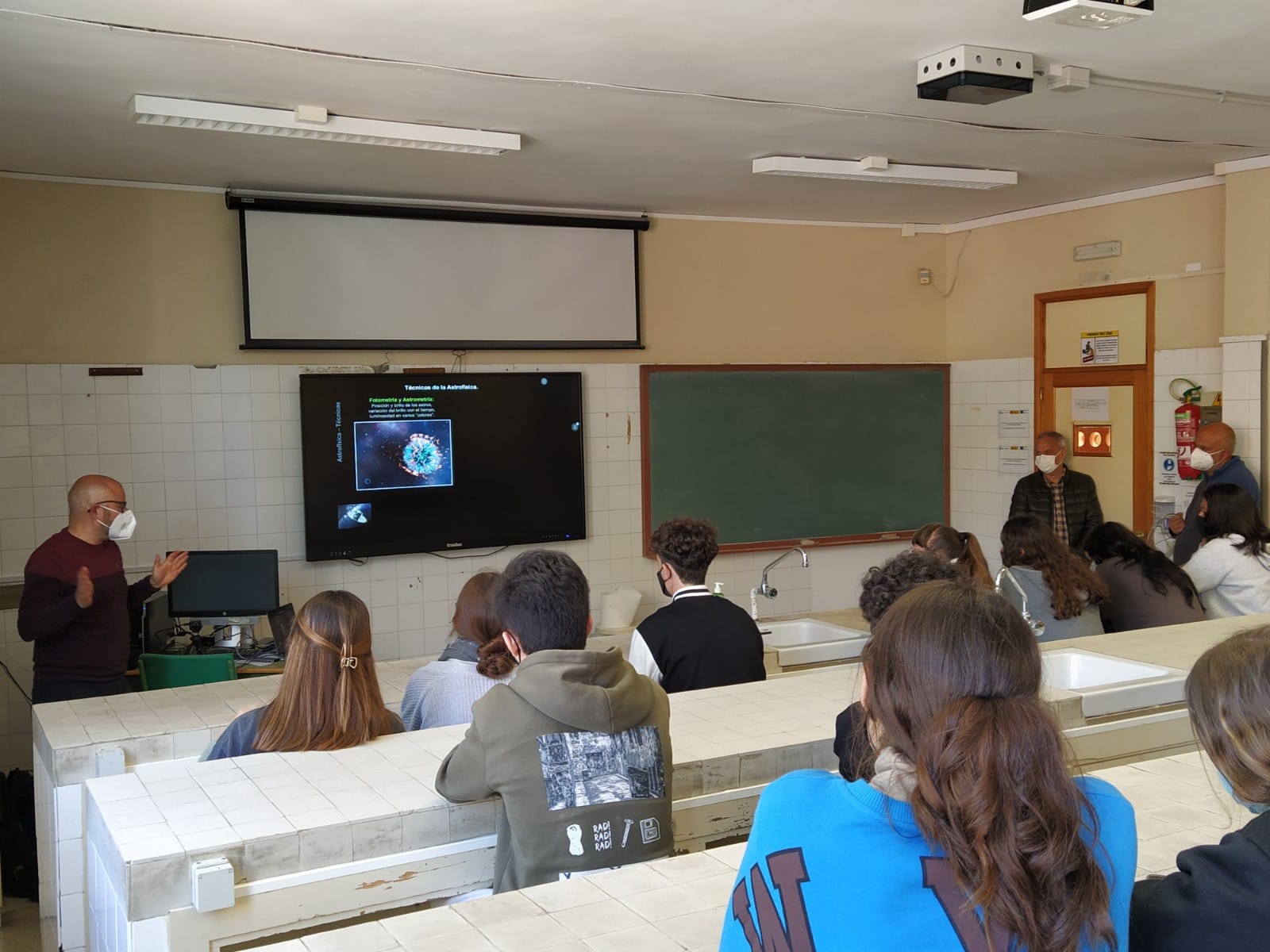 Presentation here
---
Astronomy at ancient times on Canary Islands
More here
EN version
---
ERASMUS+ YouTube kanál
Více zde
CZ EN ES version
---
Konference Americké geologické unie (AGU)
Více zde
CZ EN version
---
Astronomický kroužek v Brně
Více zde
CZ EN version
---
ZARoK (setkání členů sekce Zákrytové a Astrometrické v Rokycanech)
Více zde
CZ EN version
---
Astronomicka expedice HP Rokycany/Plzen
Více zde
CZ EN version
---
Echelle spectroscopy course in Ondřejov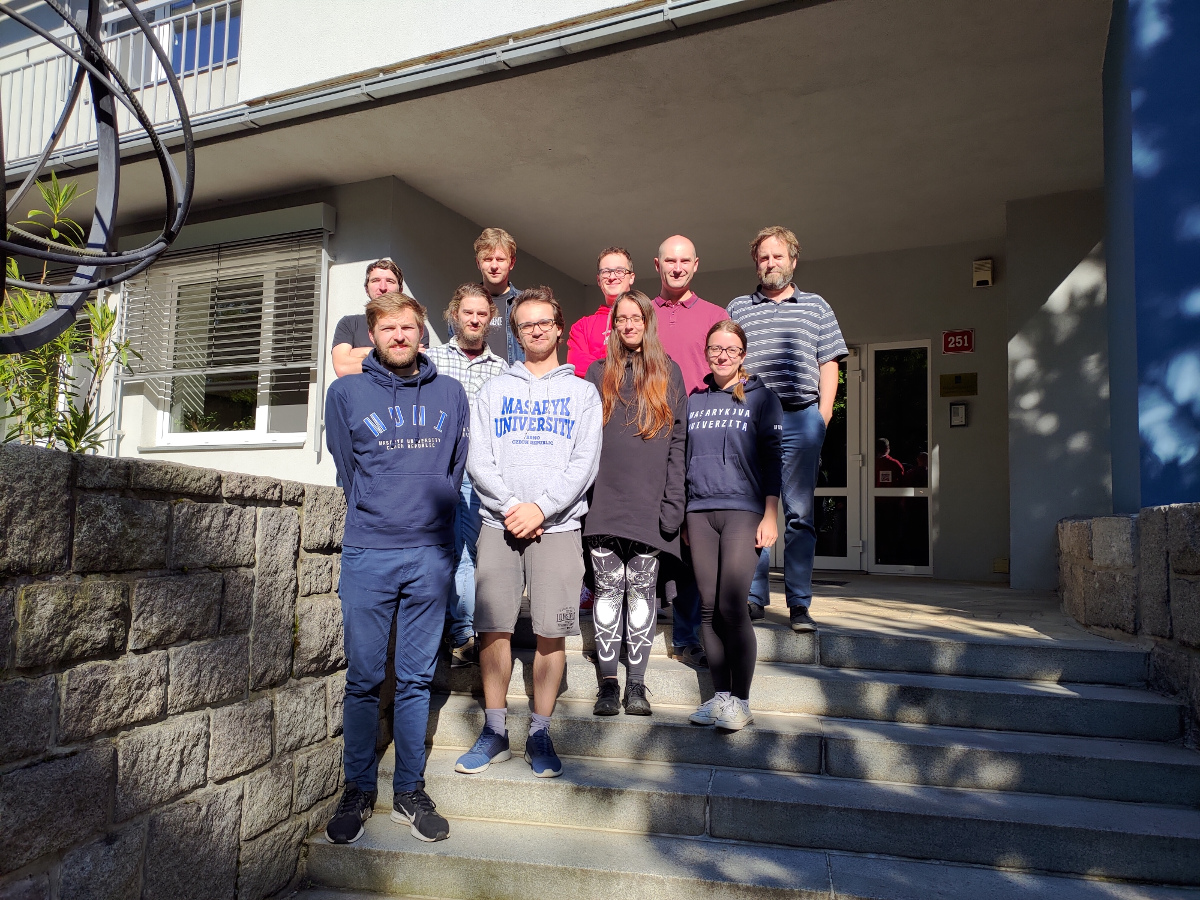 In the week of August 30-September 3, 2021, the first year of lectures dedicated to echelle spectroscopy and radial velocity determinations was held at the Astronomical Institute of the Czech Academy of Sciences in Ondřejov. Six MSc. students from the Masaryk University in Brno and Charles University in Prague learned how to reduce echelle spectra and estimate radial velocities in the IRAF package, as well as to determine radial velocities in various software packages (e.g. Exostriker) under the supervision of Dr. Marek Skarka, Dr. Petr Kabáth and their doctoral students Mgr. Magdalena Špoková and Mgr. Ján Šubjak. The emphasis was put on the practical work in the way that each of the students had to go through all the steps of the data reduction and analysis on his/her own. To cover the most possible diversity of the issues that can come up during the analysis, the students reduced data with different quality. In addition, they analysed three objects with different amplitude of the radial velocities that they did not know in advance. For example, one of the objects was an exoplanetary candidate that has the radial velocity amplitude under the detection limit of the used instrument. For the tutorial, we used archival spectra obtained with the Ondřejov echelle spectrograph mounted on the 2m Perek telescope. Except for the work, there was also space for other common activities such as the welcome party. The project was supported by the ERASMUS+ project.
---
Public Events
---
Vysokoenergetické žiarenie
Mgr. Patrik Čechvala, Fakulta matematiky, fyziky a informatiky Univerzita Komenského v Bratislave
link na článek zde


---
Najnovší diel 3x3 o vesmíre s názvom "3 zaujímavosti nočnej oblohy"
3 zaujímavosti nočnej oblohy | 3x3 o vesmíre. Hosť: Patrik Čechvala , moderuje: Karol Havrila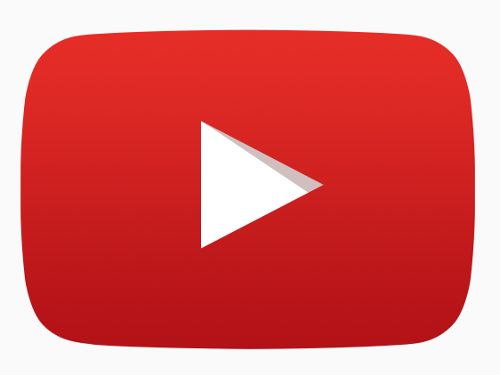 link Youtube
3x3 o vesmíre
seriál YouTube videí, rozhovory, novinky a zaujímavosti z blízkeho aj ďalekého vesmíru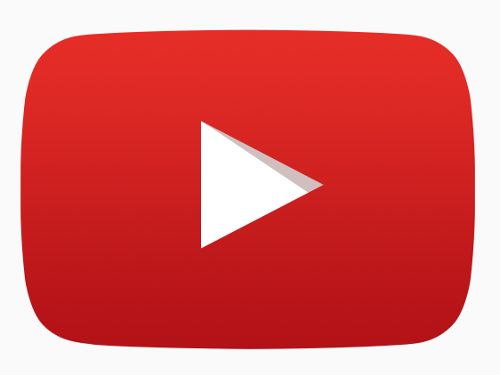 link Youtube
Čiastočné zatmenie Slnka | Matfyz livestream
Dňa 10.6. sa môžeme tešiť na zatmenie Slnka, ktoré z nášho územia uvidíme iba ako čiastočné. V maxime bude zakrytých približne 4% slnečného disku. Začiatok zatmenia nastane o 11:55 SELC a koniec zatmenia bude o 13:28 SELČ
Počas livestreamu budeme pozorovať toto čiastočné zatmenie, rozprávať sa s hosťami o vesmíre a astronómii, a skladať LEGO Ideas 21321 - Medzinárodná vesmírna stanica ISS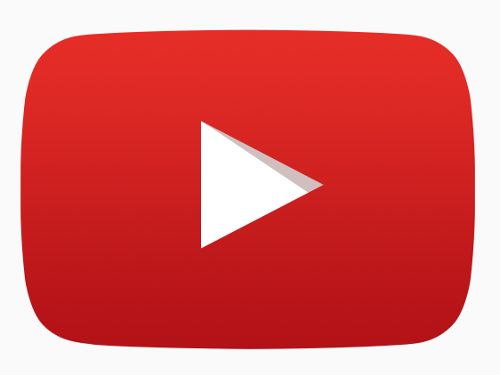 link Youtube
Odborná prednáška v rámci workshopu "Kozmologické a antropologické aspekty budúcnosti ľudstva: Na Mars a späť", ktorý sa uskutočnil na AGO
Modra 9.7.-10.7. 2021
Názov: Ľudstvo ako interplanetárny druh
Autor: Roman Nagy, Tomáš Paulech
Link to the presentation .pdf
---
El cielo de Canarias (activity for school kids)
[EN]
The activities developed in "Las Mercedes primary school" in La Laguna, Tenerife were planned for kids of 4th grade (9-10 years) in theframework of an educational project called "The sky of the Canary Islands". Jorge García-Rojas gave a talk about the observation of the sky in Canary Islands through the history, from the ancient aborigines to the largest optical-IR telescope in the world. Two short and funny workshops were carried out about the solar system and the Universe-Earth history in a year timescale. The experience was very grateful for the astronomer and the kids, who were heavily involved in all the activities and bombarded the astronomer with tons of questions and comments, most of them very interesting.
[ES]
Las actividades desarrolladas en el colegio de primaria "CEIP Las Mercedes" de La Laguna, Tenerife, fueron planificadas para niños de 4º de primaria (9-10 años) en el marco de un proyecto educativo denominado "El cielo de Canarias". Jorge García-Rojas impartió una charla sobre la observación del cielo en Canarias a través de la historia, desde los antiguos aborígenes hasta el mayor telescopio óptico-infrarrojo del mundo. Se realizaron dos breves y divertidos talleres sobre el sistema solar y la historia del Universo-Tierra en una escala de tiempo de un año. La experiencia fue muy enriquecedora tanto para el astrónomo como para los niños, que se implicaron mucho en todas las actividades y bombardearon al astrónomo con toneladas de preguntas y comentarios, la mayoría de ellos muy interesantes.
Link to the presentation .pdf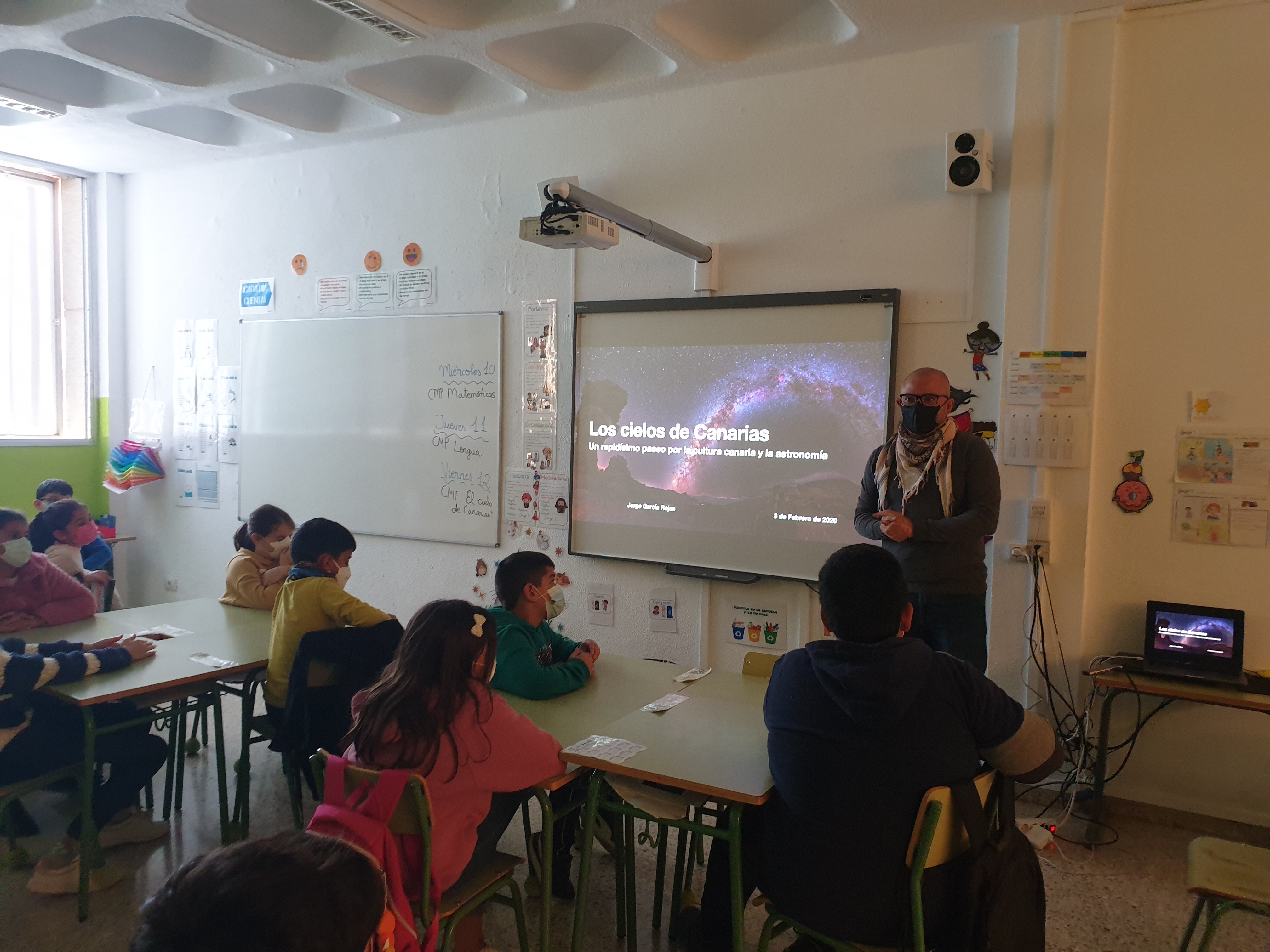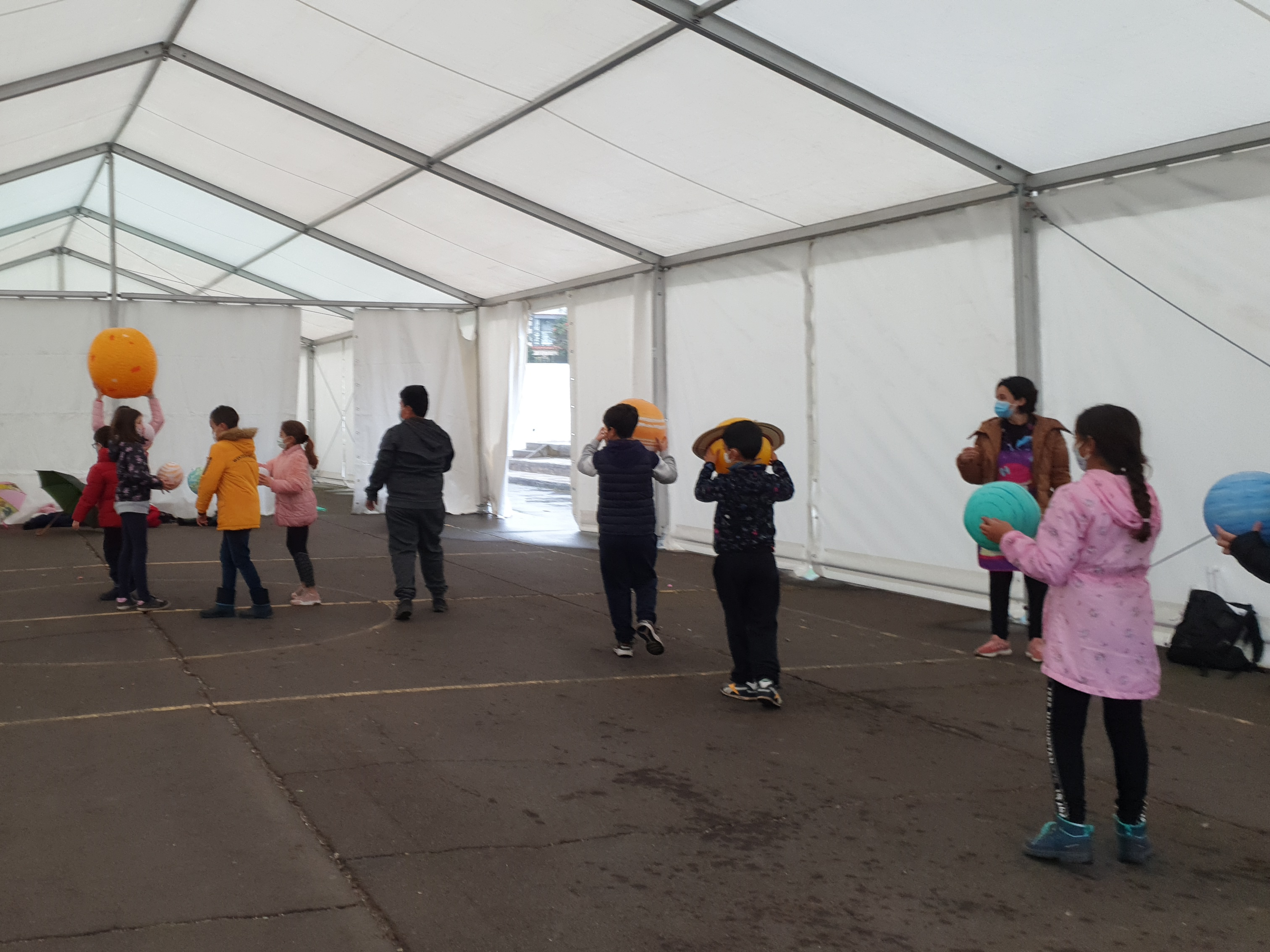 At the 2021 Trendy 3 Virtual Workshop, David Jones presents their talk "Triple Evolution Through the Planetary Nebula Phase."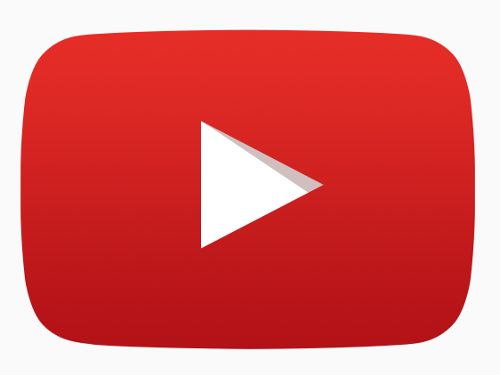 link Youtube
Common envelope evolution: From binary star chrysalis to cosmic butterfly - David Jones
Planetary nebulae are some of the most strikingly beautiful astrophysical phenomena known, gracing many a glossy-paged, coffee-table book and earning them the nickname "cosmic butterflies". While classical stellar evolutionary theory states that planetary nebulae are the end products of intermediate mass stars, forming as the star leaves the Asymptotic Giant Branch and evolves towards the white dwarf phase, it is now clear that a significant fraction of planetary nebulae originate from a binary evolutionary pathway. As the immediate products of the common envelope, close-binary central stars of planetary nebulae offer a unique tool with which to study this rather poorly understood phase of binary evolution. Furthermore, as the nebula itself represents the ionised remnant of the ejected common-envelope, such planetary nebulae can be used to directly probe the mass, morphology and dynamics of the ejecta. Here, I will summarise our current understanding of the importance of binarity in the formation of planetary nebulae as well as what they can tell us about the common envelope phase - including the possible relationships with other post-common-envelope phenomena like novae and type Ia supernovae.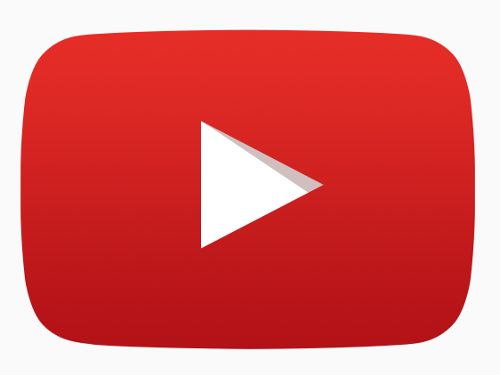 link Youtube
Exoplanety z vesmíru - Marek Skarka
Pozorování a výzkum exoplanet patří k nejdůležitějším a zároveň nejobtížnějším disciplínám soudobé astronomie. Přesná data je sice možné získat i z povrchu Země, ale nesrovnatelně lepších výsledků lze dosáhnout z vesmírného prostoru, kde neruší zemská atmosféra. Vesmírné mise jako HST, CoRoT, Kepler či TESS způsobily revoluci v našem chápání planet mimo Sluneční soustavu. A chystají se další. Přednáška se bude věnovat zejména technickým parametrům jednotlivých misí a zásadním objevům, které byly s jejich pomocí učiněny.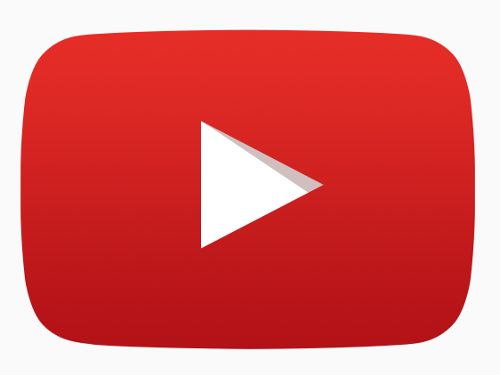 link Youtube

link Facebook
Observatoř na ostrově La Palma - Marie Karjalainen
V rámci přednášky se dozvíte, jaké jsou na observatoři na La Palmě (Kanárské ostrovy) dalekohledy, jaké je jejich přístrojové vybavení a využití pro zkoumání vesmírných objektů. Povíme si o nejvýznamnějších dosažených vědeckých výsledcích uskutečněných na základě pozorování na tamních dalekohledech. Speciální pozornost budou mít extrasolární planety a vysoce energetické objekty. Přednášející také přiblíží každodenní život a práci astronomky na tomto malém ostrově.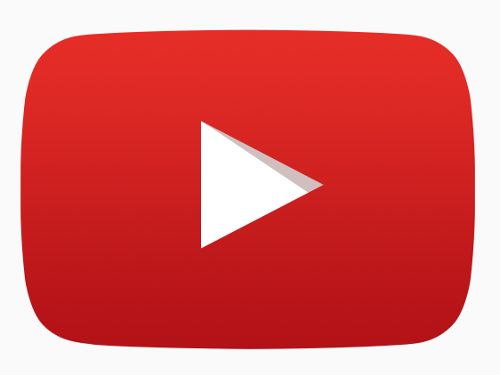 link Youtube

link Facebook
Noc vědců 2020 - záznam živého vysílání na téma exoplanet
Záznam diskuze s vědeckými pracovníky ASU o exoplanetách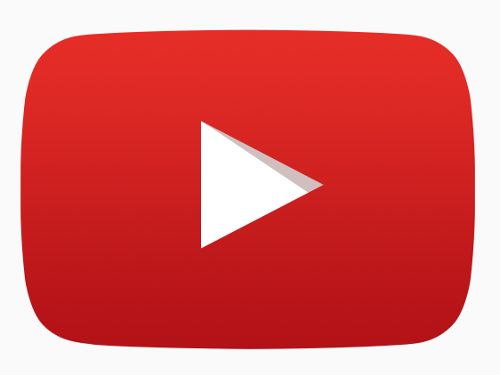 link Youtube
---